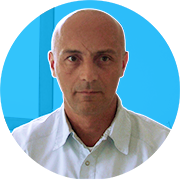 Dan Topala
General dentist and implantologist
• Graduated the Faculty of Dentistry from the Carol Davila University of Medicine and Pharmacy.
• Esteemed member of the professional dental community.
• Leader in his fields of expertise.
With almost two decades of practice, Dr. Dan Topala has treated thousands of patients with the highest rates of success. As a general dentist and dental implant expert, Dr. Dan built his reputation on high-quality dental treatments, a holistic approach to dental care (including education, intervention and prevention programs) and the use of state-of-the-art minimally invasive equipment and techniques.
His areas of expertise are oral surgery (sinus lift, impacted teeth, apicectomy, GBR, etc.), implantology, prosthodontics, and endodontics. He gained accredited experience in implantology, osseointegration, treatment planning and solutions in implant complications, bone grafting, oral rehabilitation, management of hard and soft tissues in implantology and many more. He is GDC registered since June 2016 and ITI member since May 2016, backing all his dental services with full indemnity insurance.
His professional conduct is beyond reproach, as Dr. Topala built a solid reputation for his outstanding interpersonal skills, bedside manner, friendly approach to patients from all walks of life, and his unmatched level of empathy. His patient follow-up procedures are a standard of good practices in the dental field, and all patients feel comfortable and valued whenever they require Dr. Topala's dental services.
With good command of both spoken and written languages (Romanian, English, and Italian), Dr. Topala is the go-to professional for locals, expats, and tourists needing high-end dental services at the most affordable of prices.
Dr. Topala is a dental professional receiving international reconnaissance as well. His professional and innovative papers and studies on implantology and oral rehabilitation have oftentimes been appraised by his international peers during conferences and specialty congresses held in the United States, U.K., South Africa, Romania, Denmark, Monaco or Italy.
What differentiates Dr. Topala from other general dentists or specialists in the field is, however, his personal, individualized and empathetic approach to his patients. Whoever walks in his practice is warmly welcomed and made to feel comfortable. Dr. Topala doesn't treat symptoms or dental problems but people – and his growing pool of satisfied and returning patients stands as proof that his ambition to turn even the most difficult of oral surgeries into a comfortable experience is what sets him apart from his colleagues.
Whether you need a simple dental intervention or you require complex dental procedures, you will be safe, at ease and receiving impeccable services in Dr. Topala's chair!
Want to know more about my practice?